Motorcycle Trip to New Mexico and Colorado
July 10-17, 2009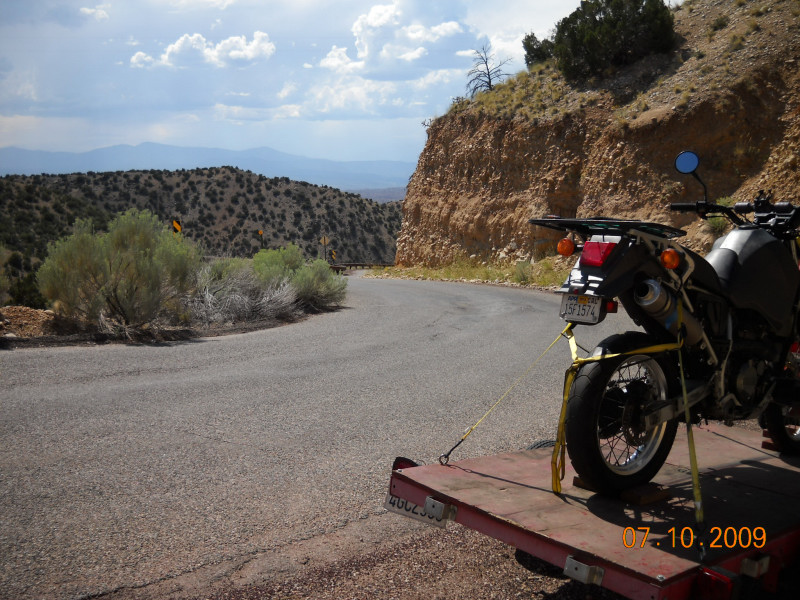 On the way to Red River, NM, Evelyn thought it would be a good idea to take the "scenic route". The GPS did not like the idea and insisted we turn around at earliest spot. But, no. We drive through never never land on a curvy steep back road that wasn't all that "scenic".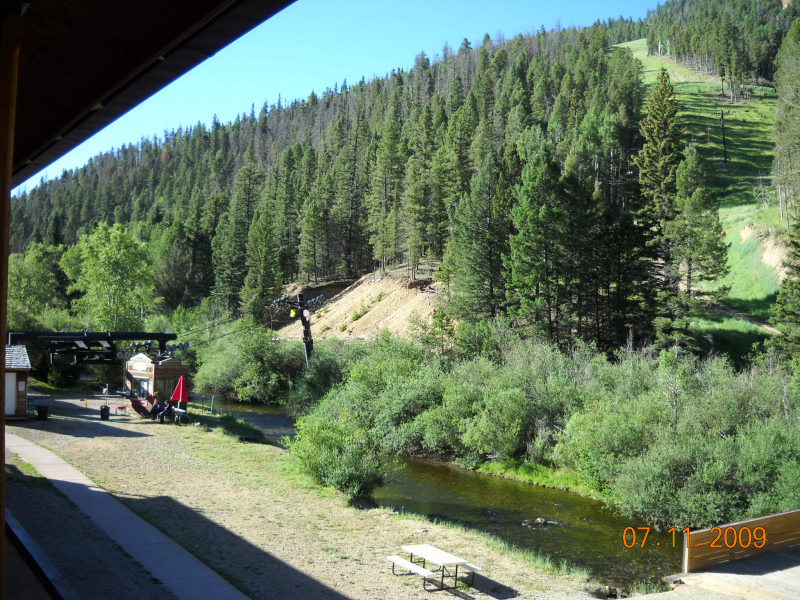 But, we make it to Worldmark and this is the view out back from our balcony. Let's take a ride on the ski lift!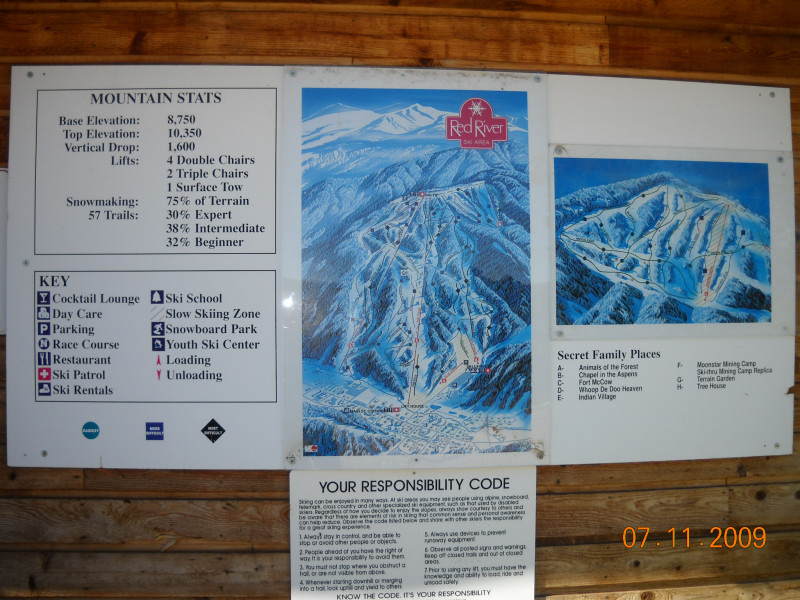 We make it to the top. Long lift. Takes a half hour each way!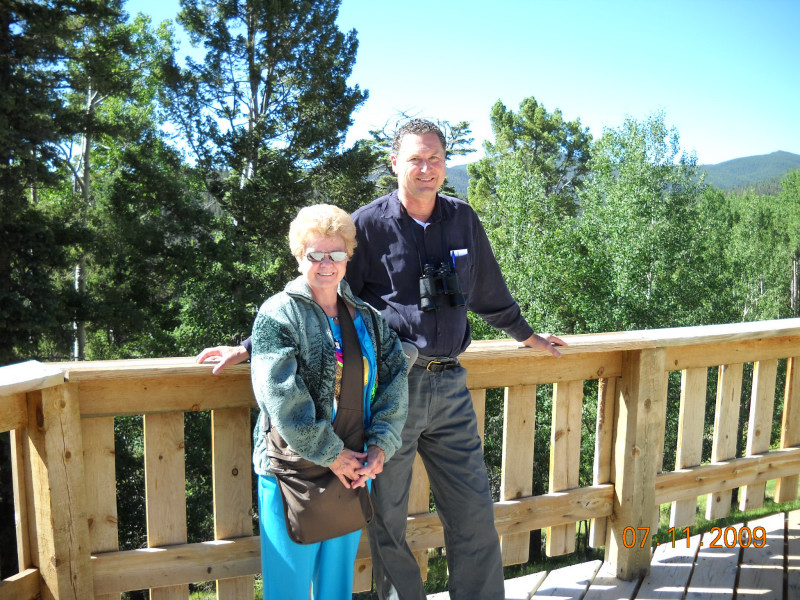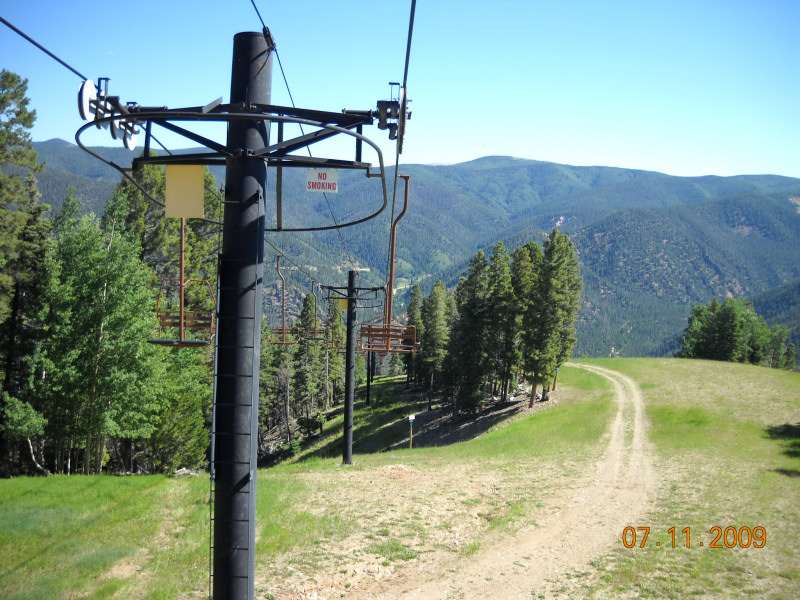 We didn't see any, but the lift operator said some bring their mountain bikes and enjoy a long ride down the mountain.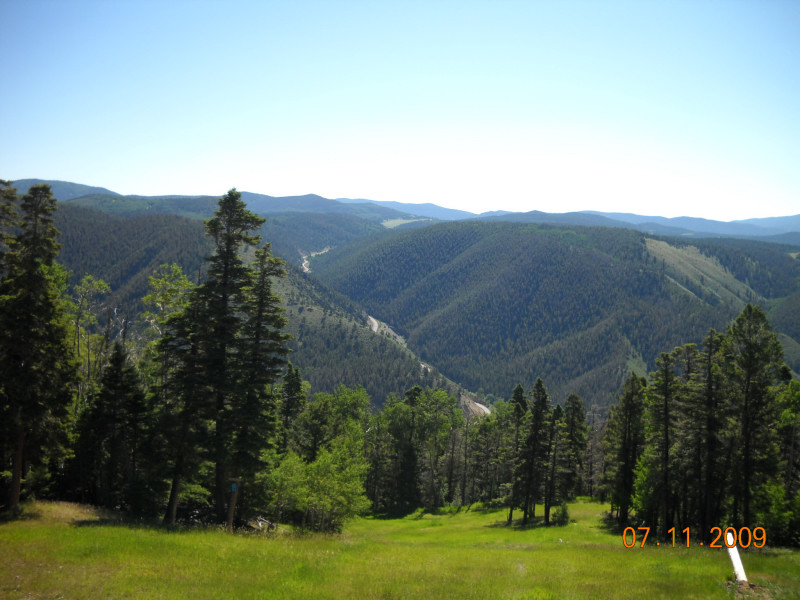 View on way down. I will ride that road later.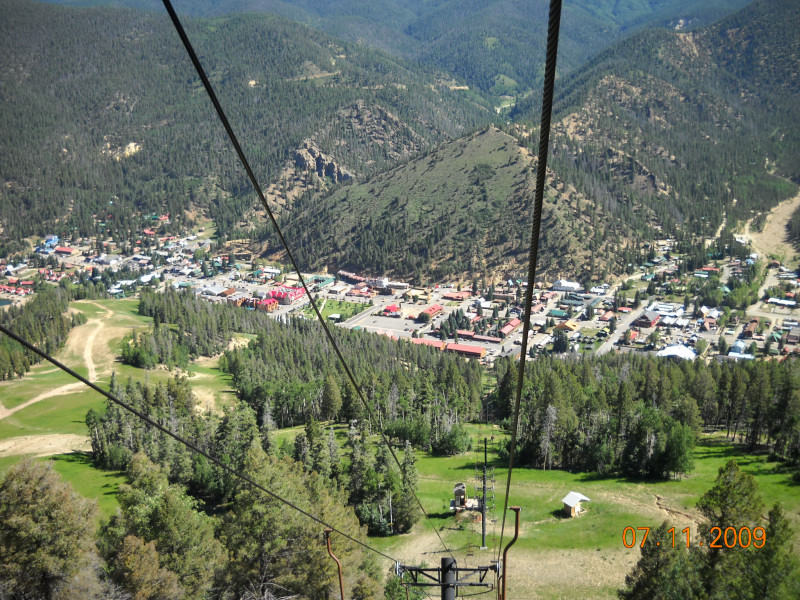 Red River, New Mexico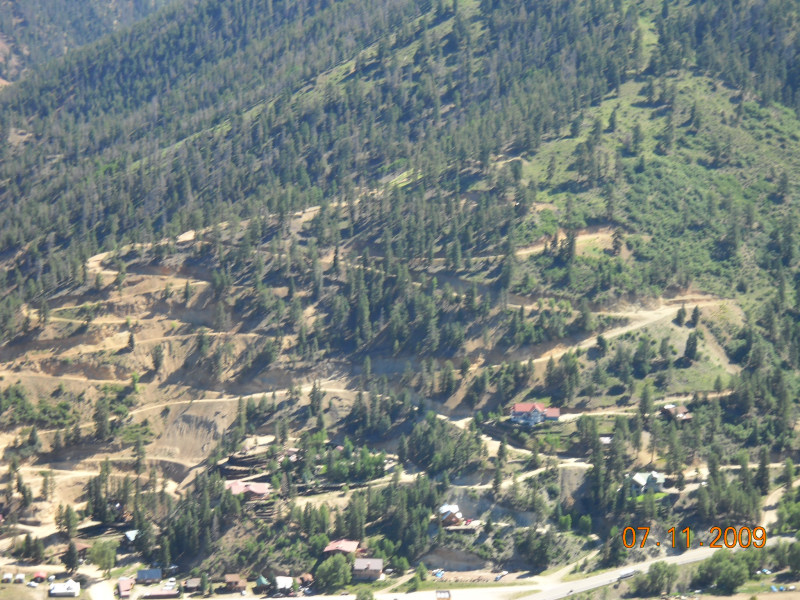 Hmmm, interesting........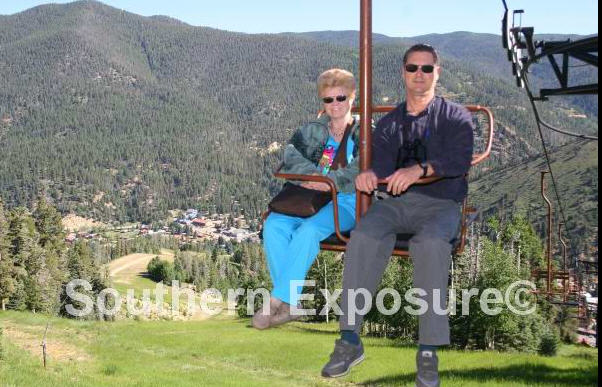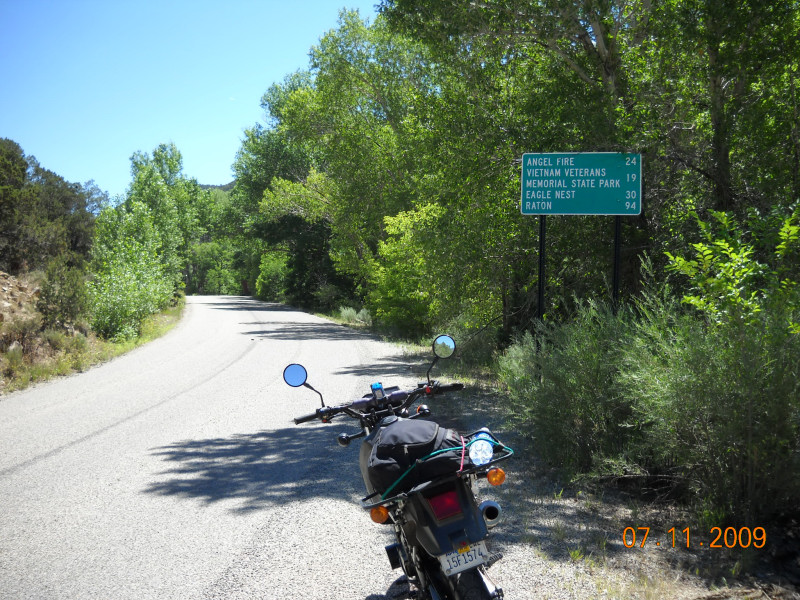 John is riding the loop from Red River to Taos to Eagle Nest to Red River. 80 mile ride.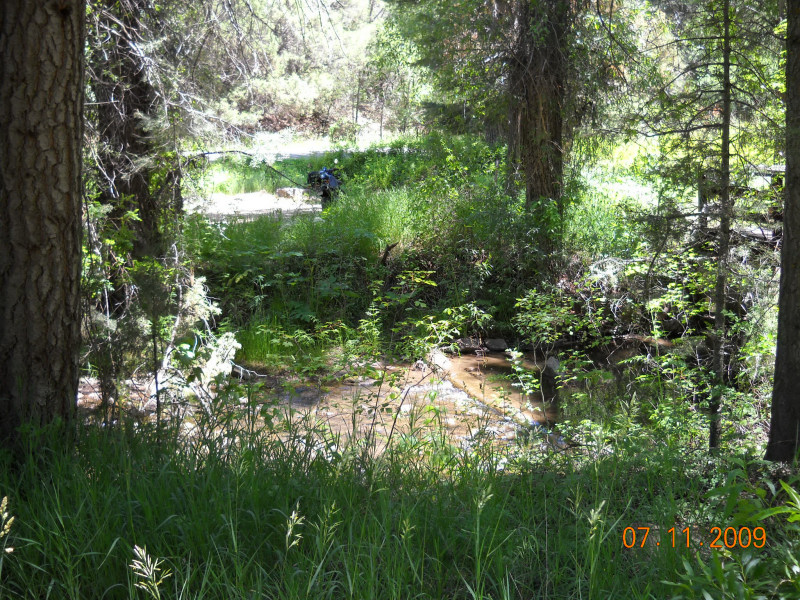 Find the bike in the woods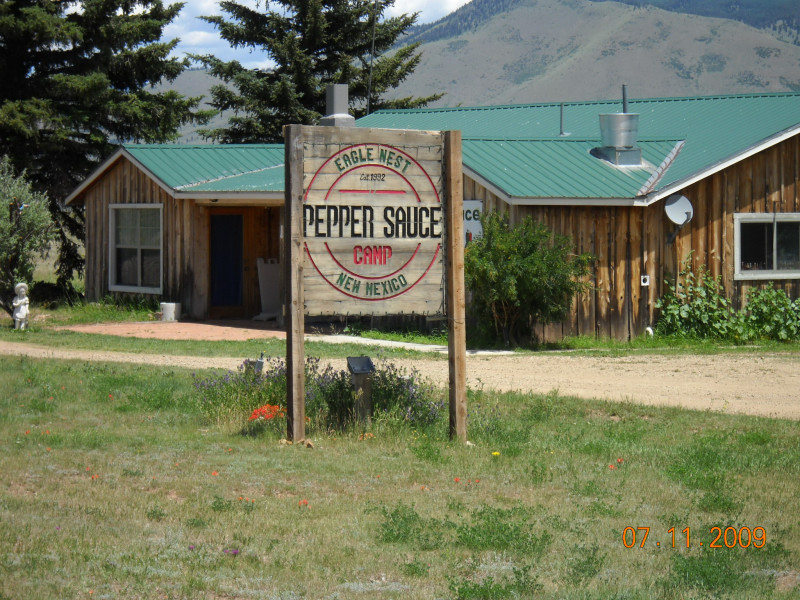 Tabasco on everything? I dunno!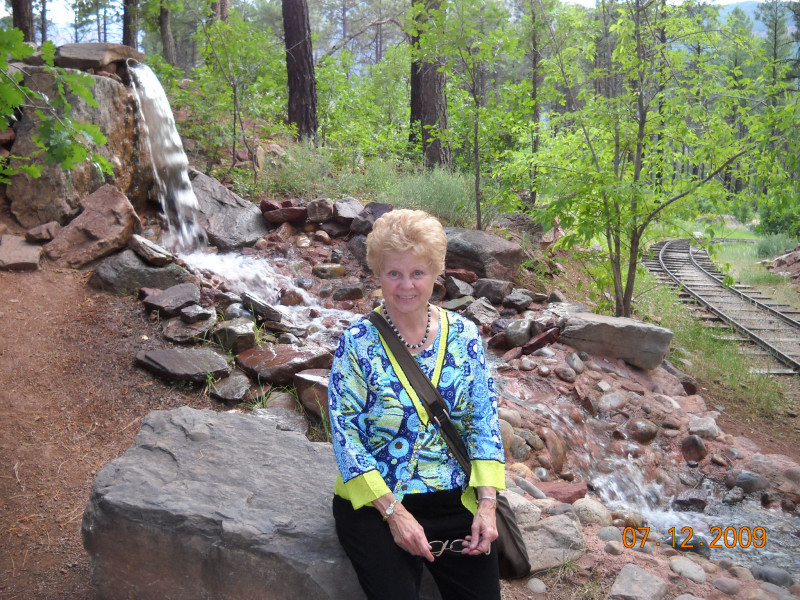 Nice picture of Evelyn taken while we are waiting to eat at the Bar D Western BBQ and Country Show. We are now in Durango, Colorado. Evelyn followed John from Red River. 280 mile ride.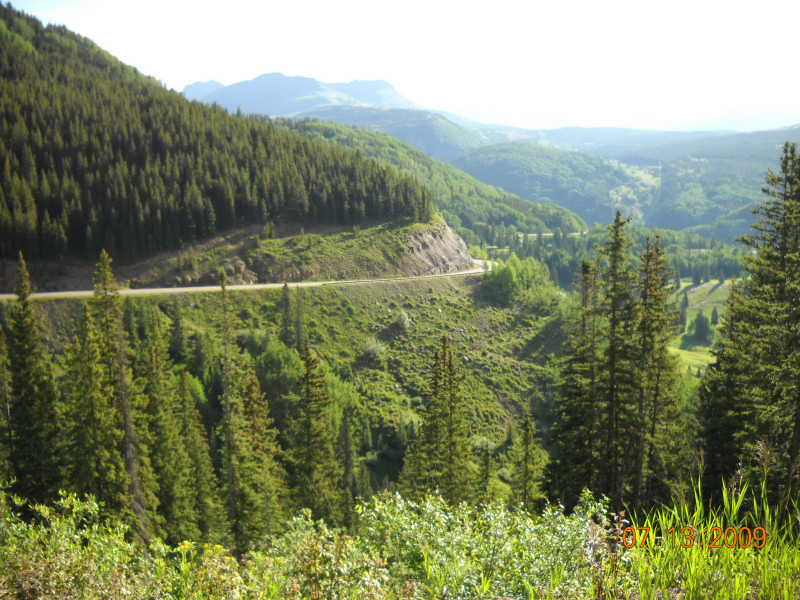 Next day. Monday, 7/13/09. John is heading out of Durango heading for the "Million Dollar Highway" from Silverton to Ouray. Photo interlude below.....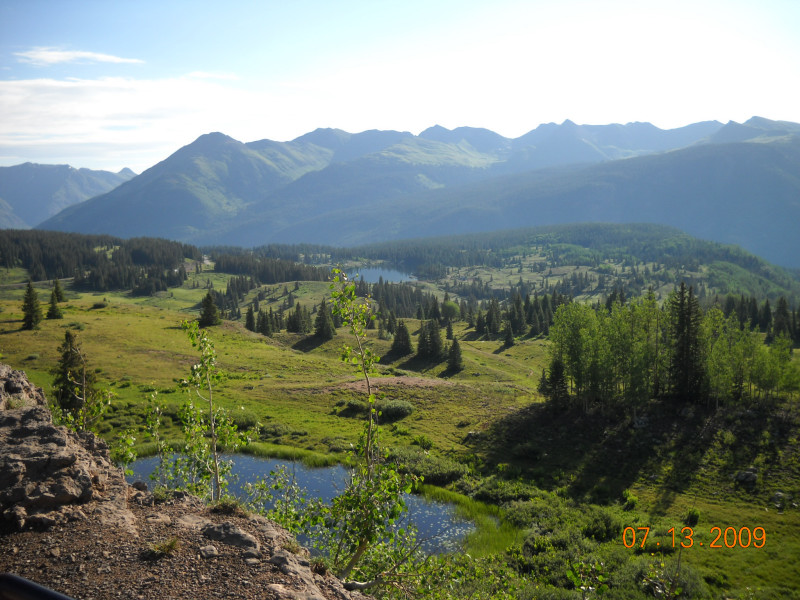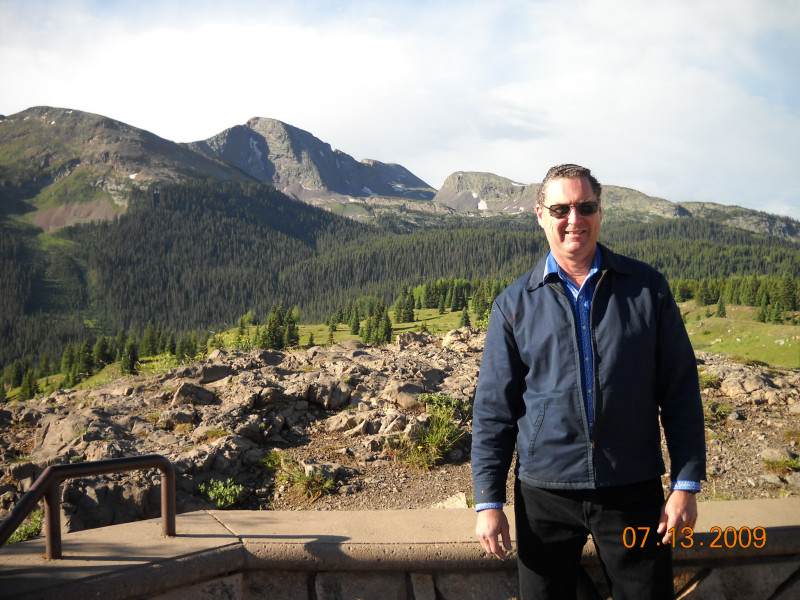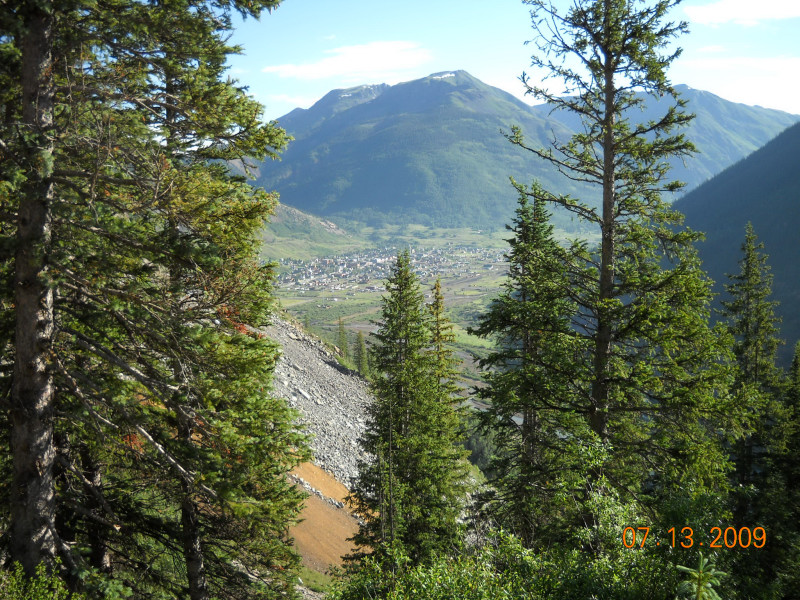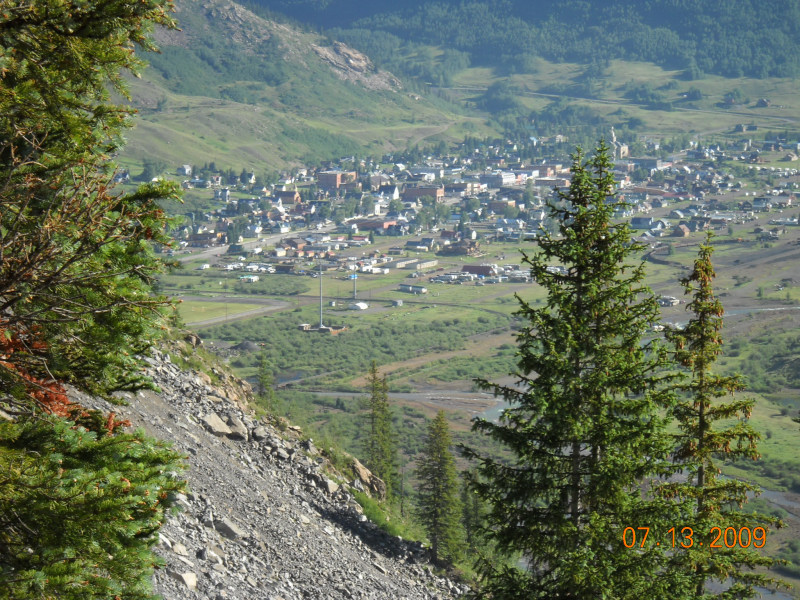 Coming into Silverton, CO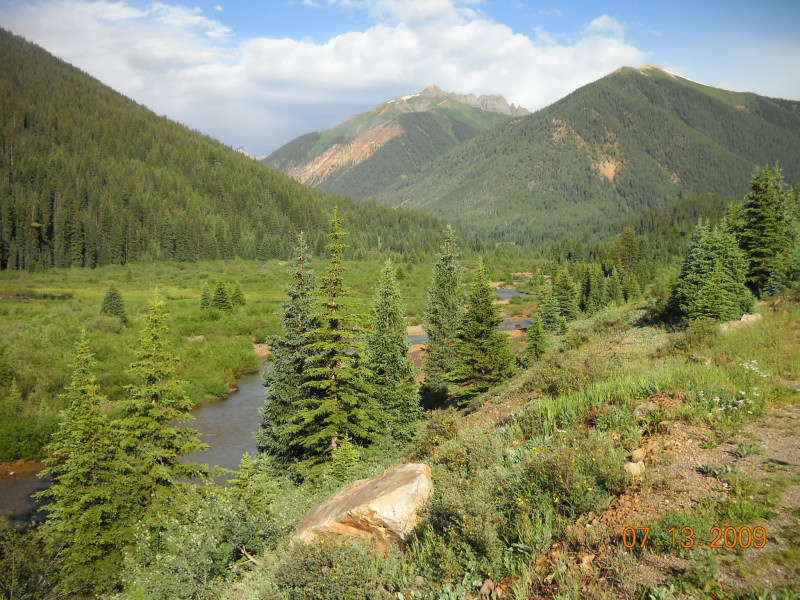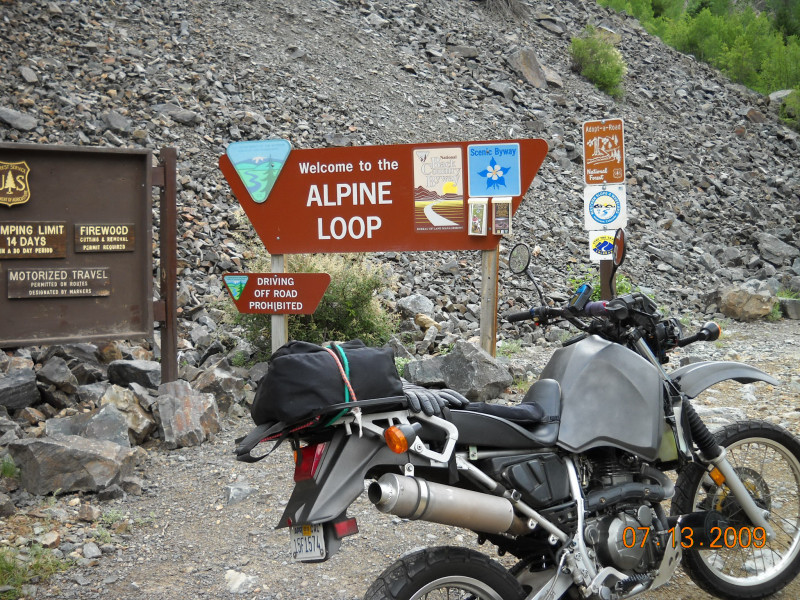 Five miles before Ouray is the start of the 65 mile Alpine Loop jeep road.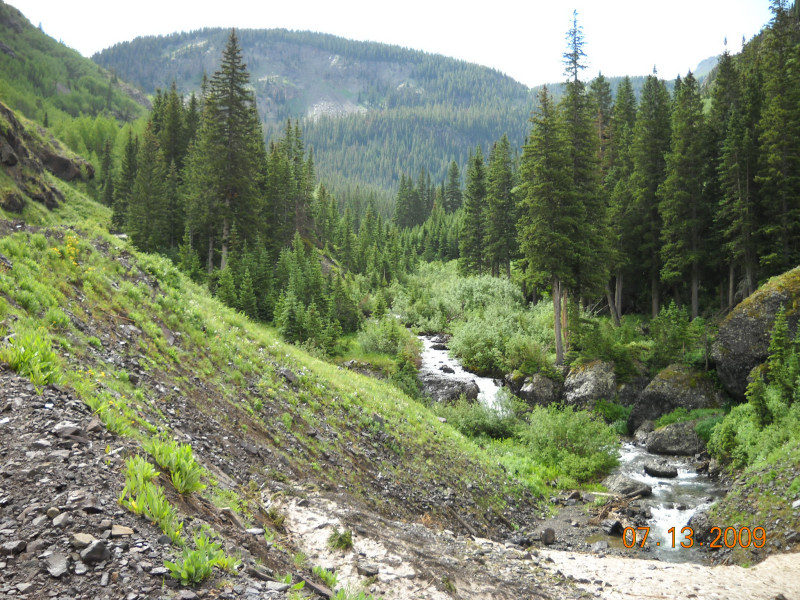 Nice setting to start the ride up to Engineer Pass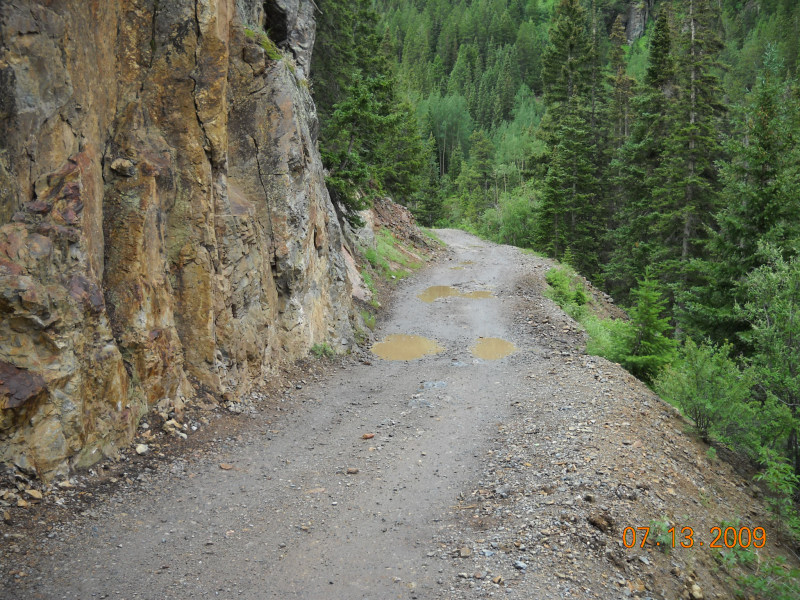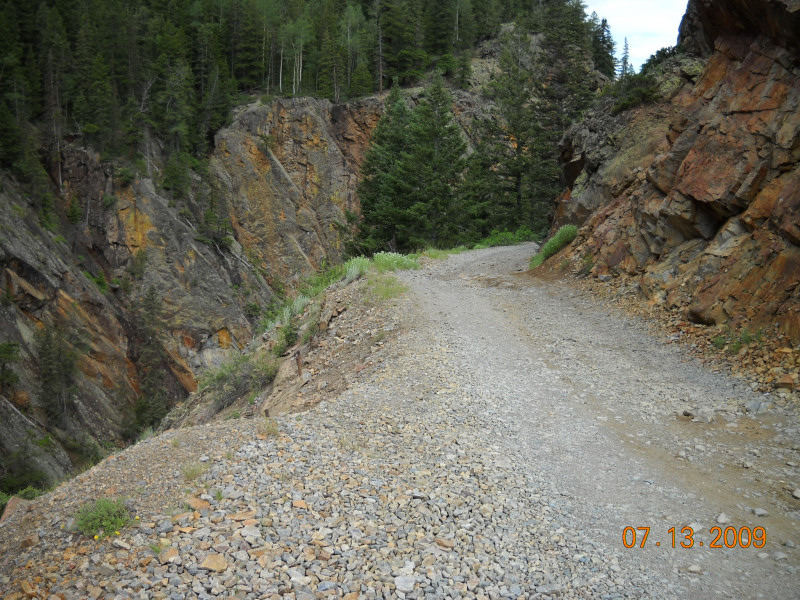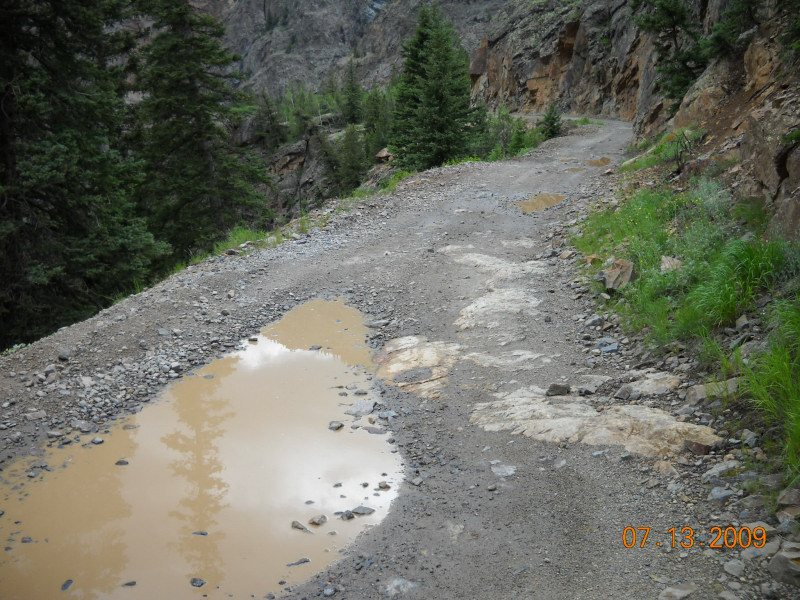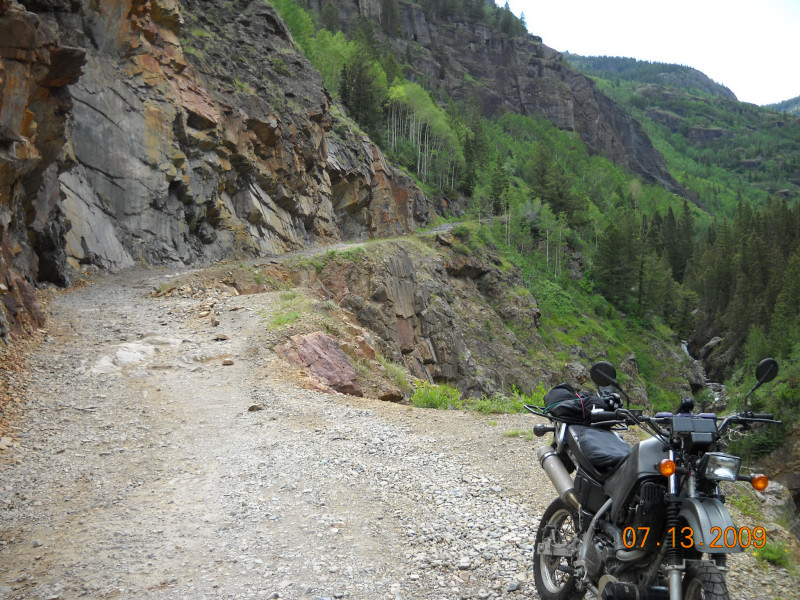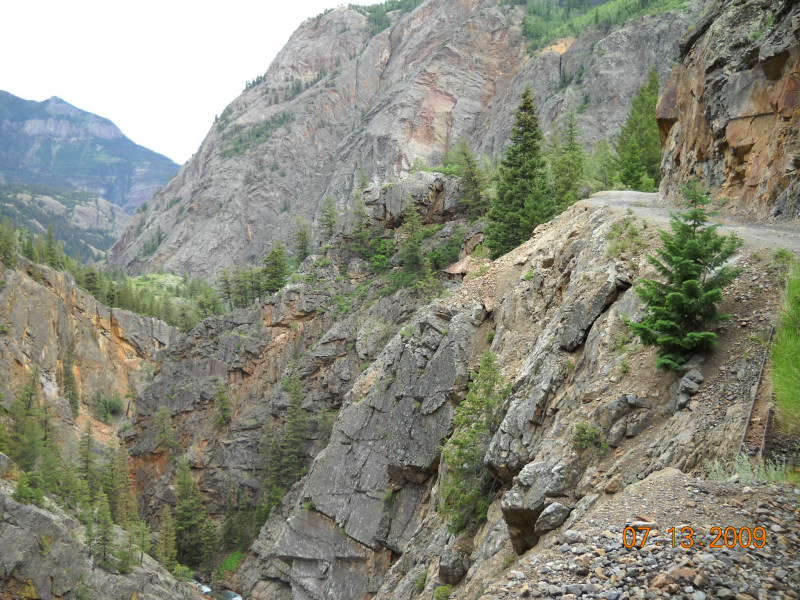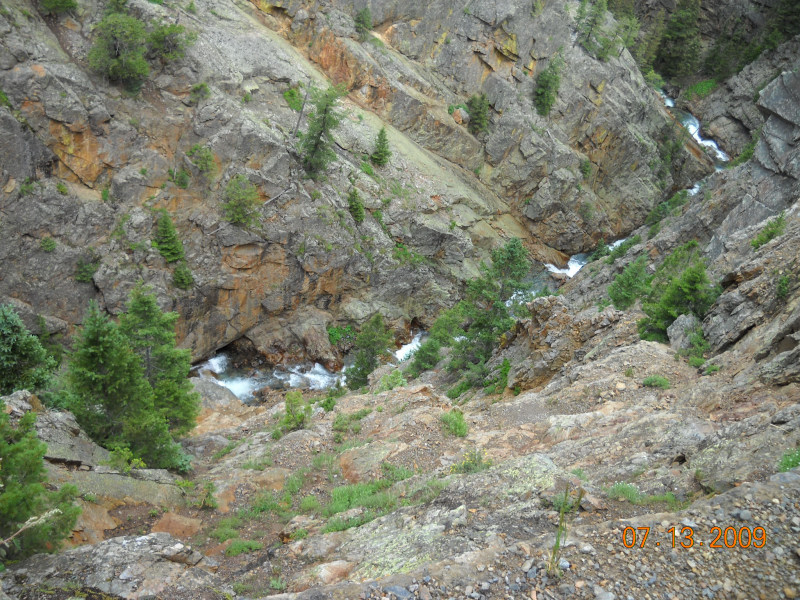 Looking straight down from the edge of the road. After a couple miles I get caught in a thunderstorm. By the time I got my rain gear on, I was pretty wet and my bike seat cover soaked. With wet rocks, rough terrain and me riding alone, I soon passed my "comfort zone" and felt I was over my head. So, I headed back down and found another jeep trail I felt at ease with. I will pick up another part of the Alpine Loop from Silverton later in the day.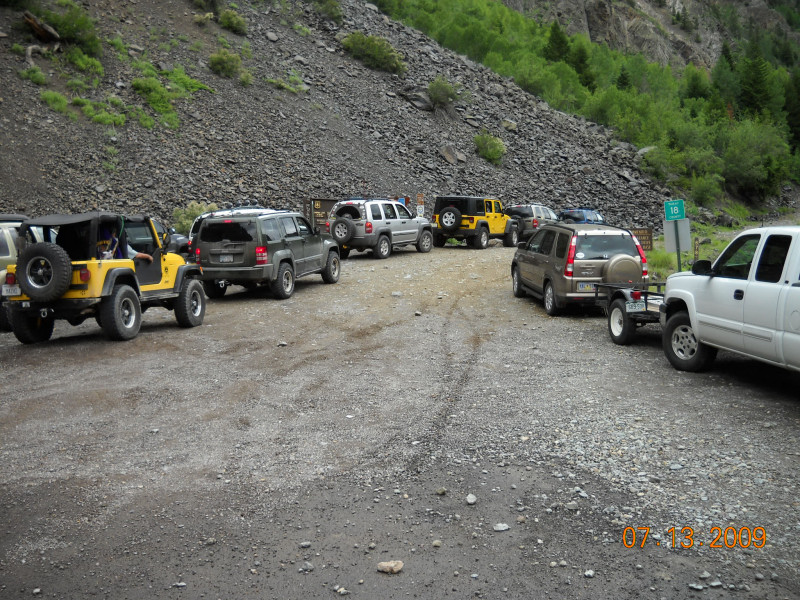 When I get back to the start, jeeps are lined up to hit the trail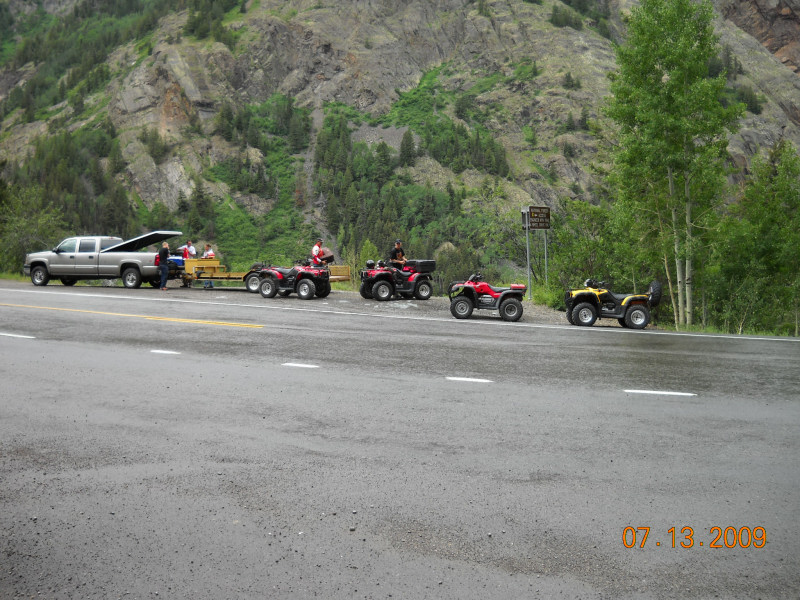 Then the ATVs.... They manage the road OK, but go soooo slow (same for the jeeps). Bikes much faster, but a bumpy ride! My speedometer died on the road. But, the bike held together. There are some tight switchbacks on steep grades where you just have to hit the gas, hang on, and power over boulders and loose rocks. Some hairy moments for me.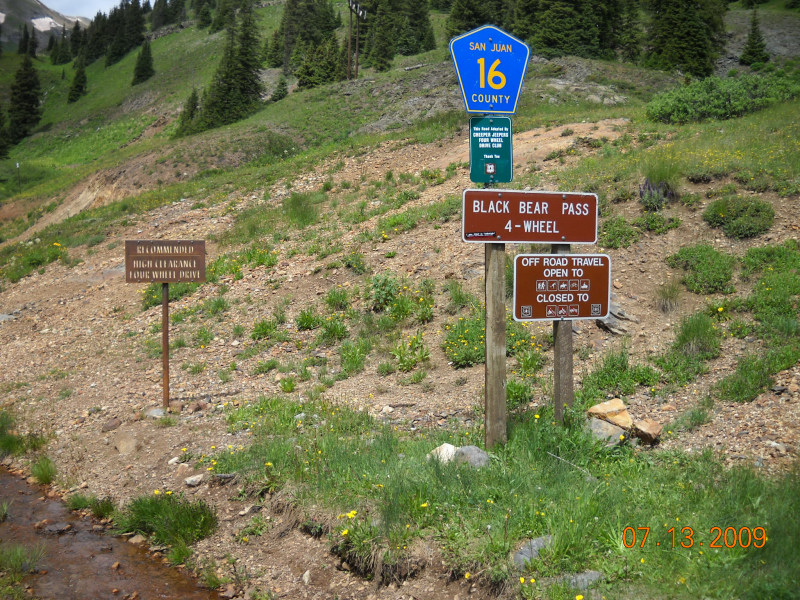 This road was better for me, and the rain stopped... Photos along this road below....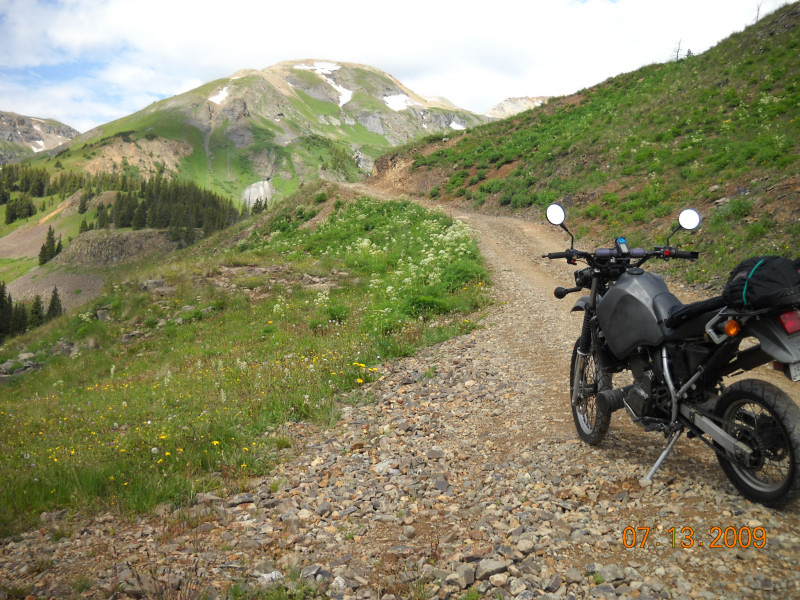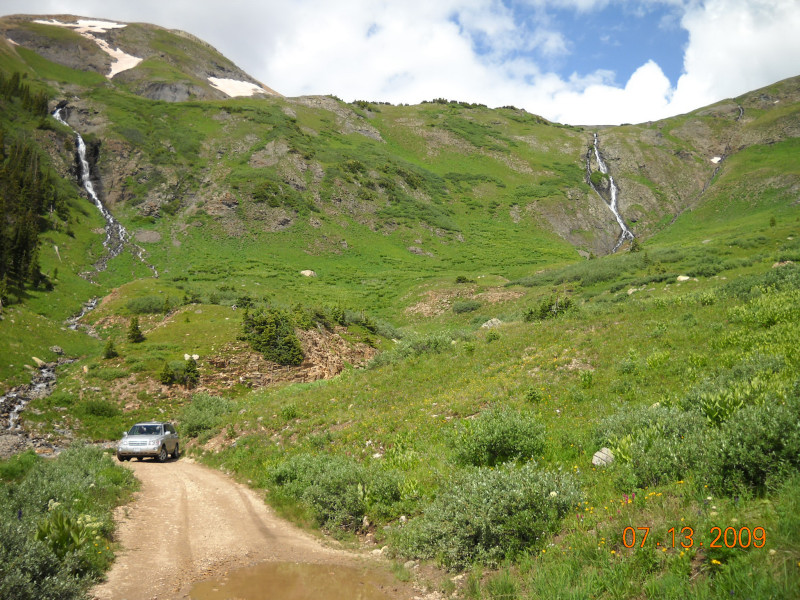 This 4-WD Toyota turned around at the river, but I kept going....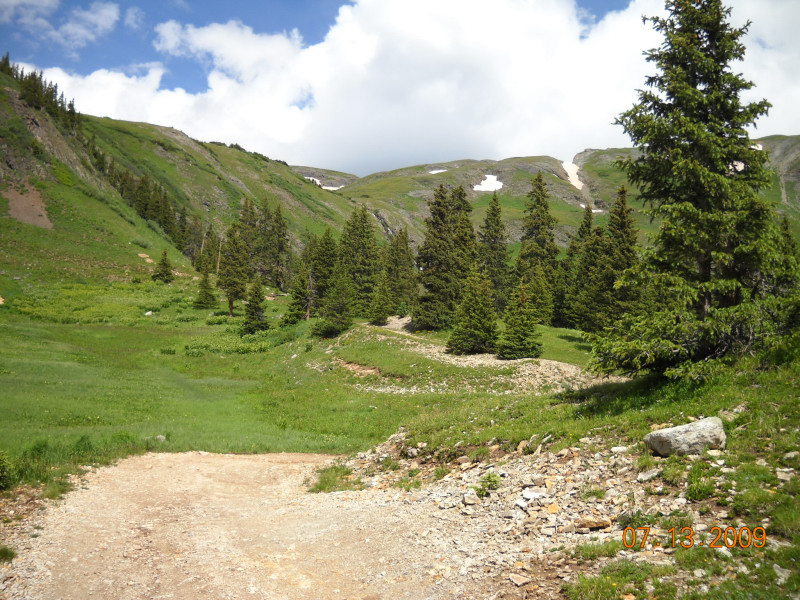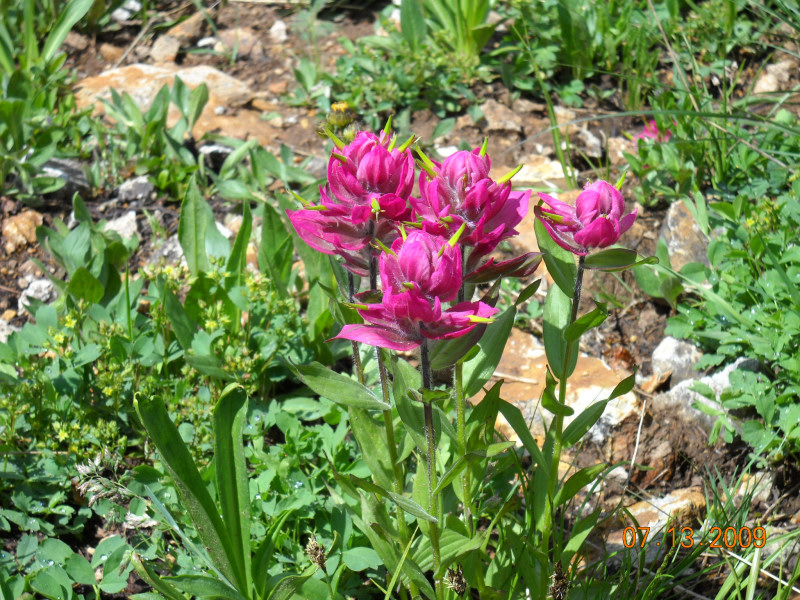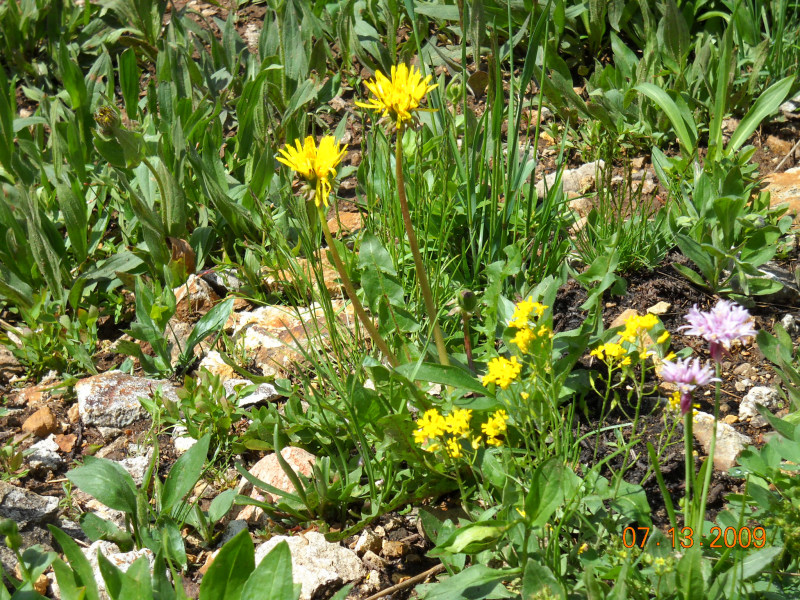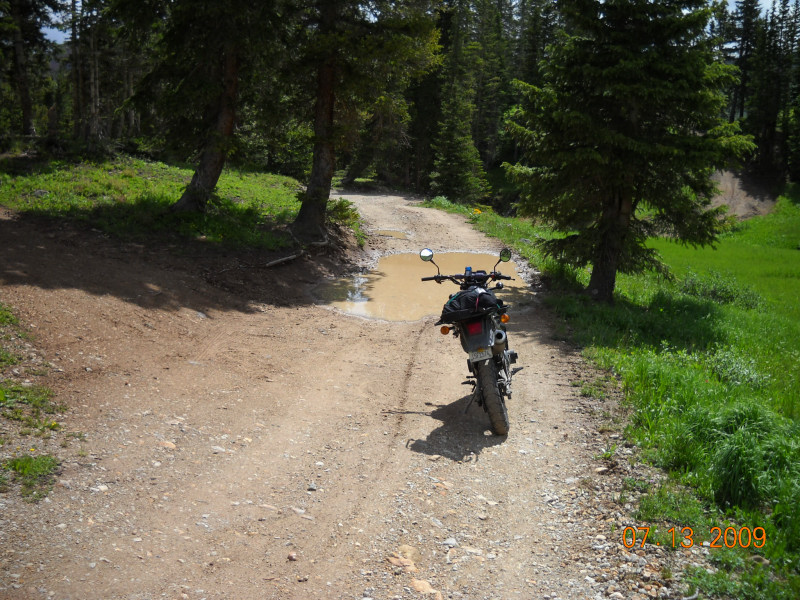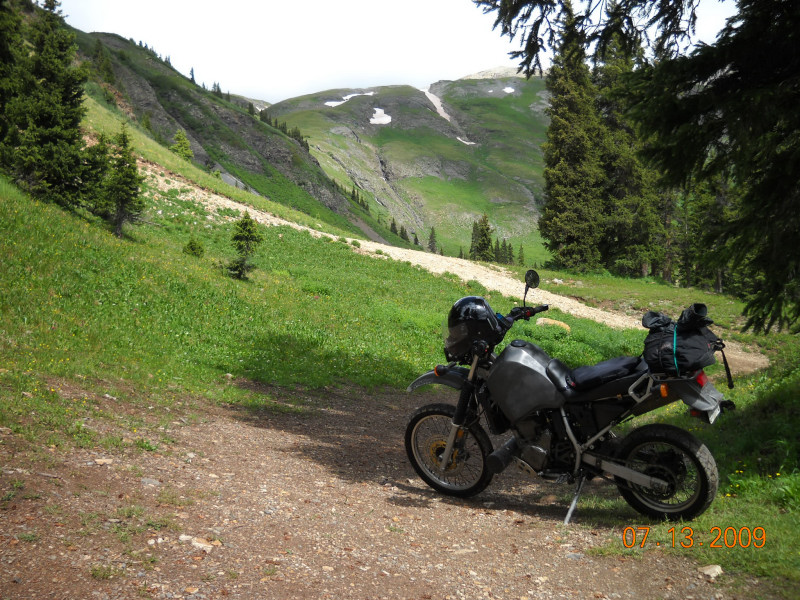 I get real hungry so I pull into the first restaurant I come to in Silverton, the RK Cafe. Tough choices on the menu:
Squashed Squirrel
Possum & Sweet Potato
Armadillo on the Half Shell
Buzzard Back Chili
Hunk of Skunk
Rack of Coon
Toad Ala-Mode
Mashed Turtle
or the Special of the Day--Rigor Mortis Rabbit
Tough to decide here at the Road Kill Cafe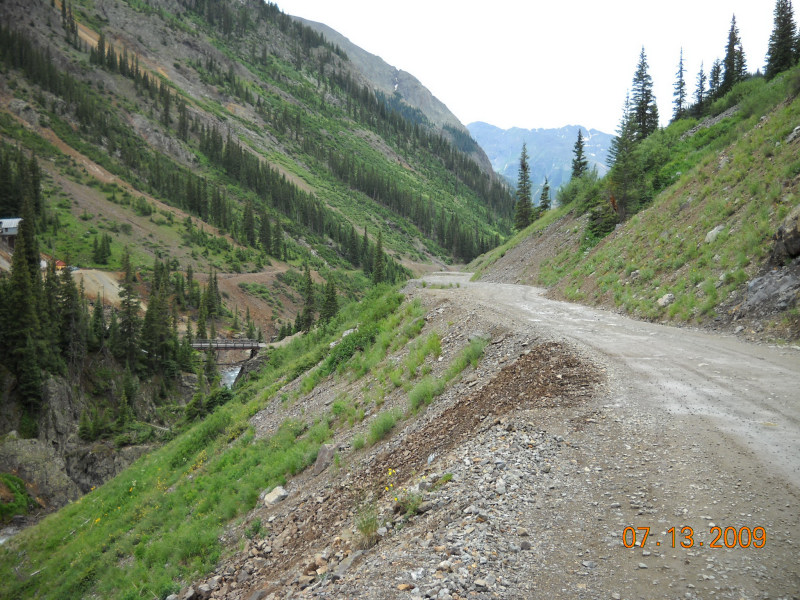 After a tasty meal (actually I ate at the Silverton Brewery Restaurant--Nice IPA). So, I catch the other end of the Alpine Loop. I went in several miles.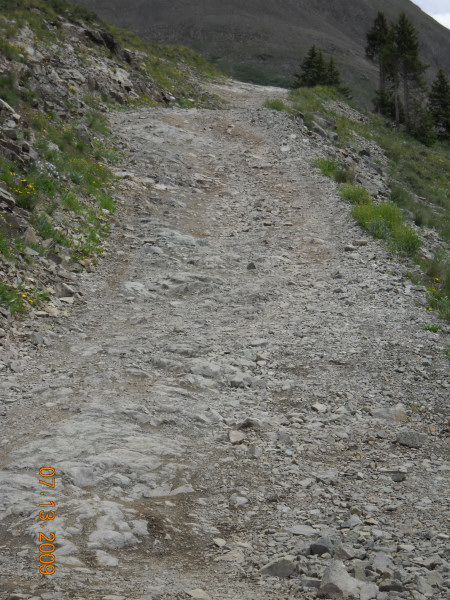 This goes to Cinnamin Pass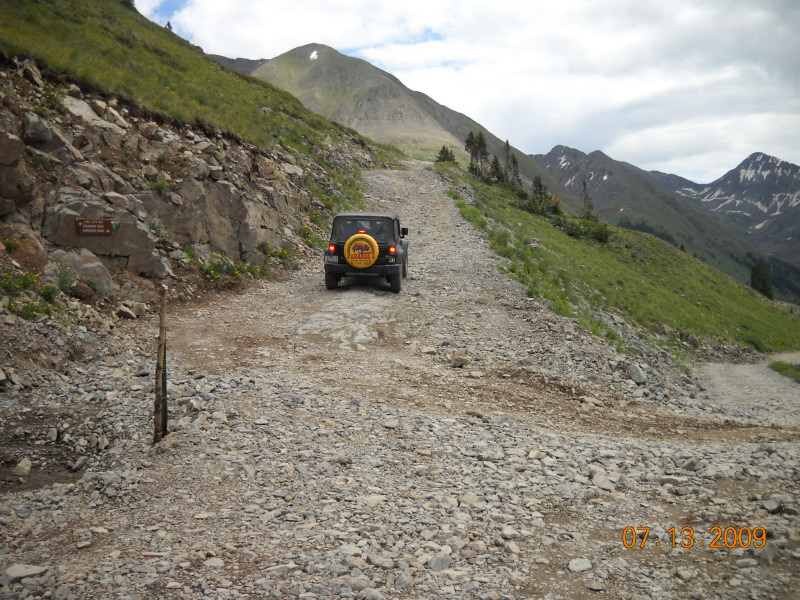 Some folks in a rental jeep are going for it. I could have walked faster than they were going. It was a steep grade, though.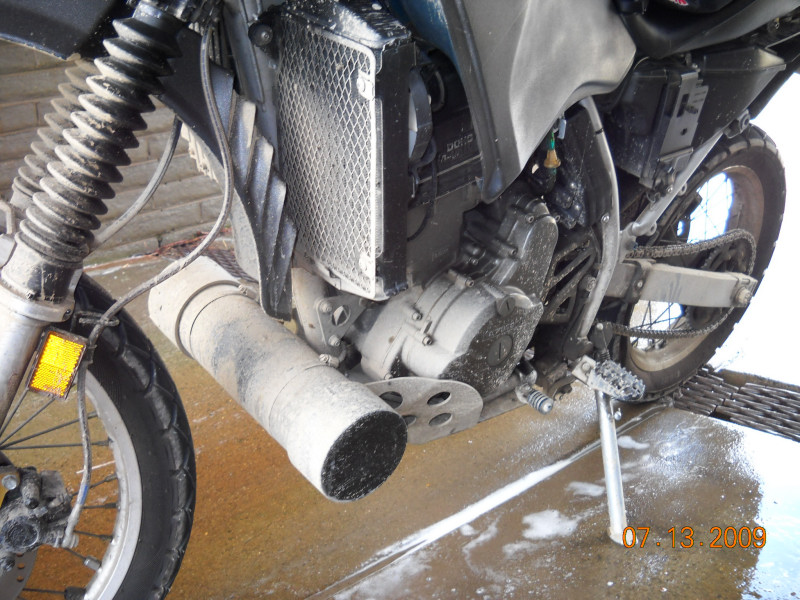 Dirty bike at the car wash back in Durango. Next day, Tuesday, I ride 55 miles to Mesa Verde to see the ruins of natives who lived in fancy caves and brick homes from 1000-1300 CE. They had no metal tools, only stone, bone and wood. They were hunters and grew crops. Photos below~~~~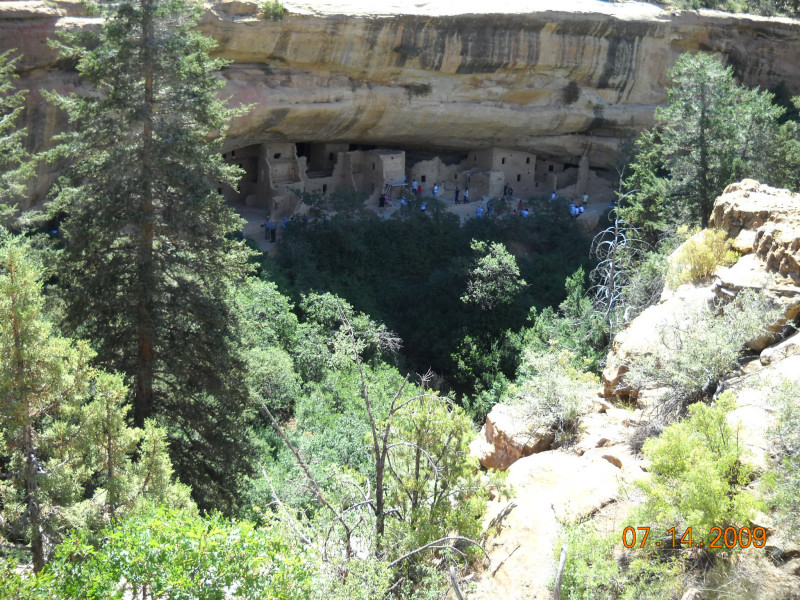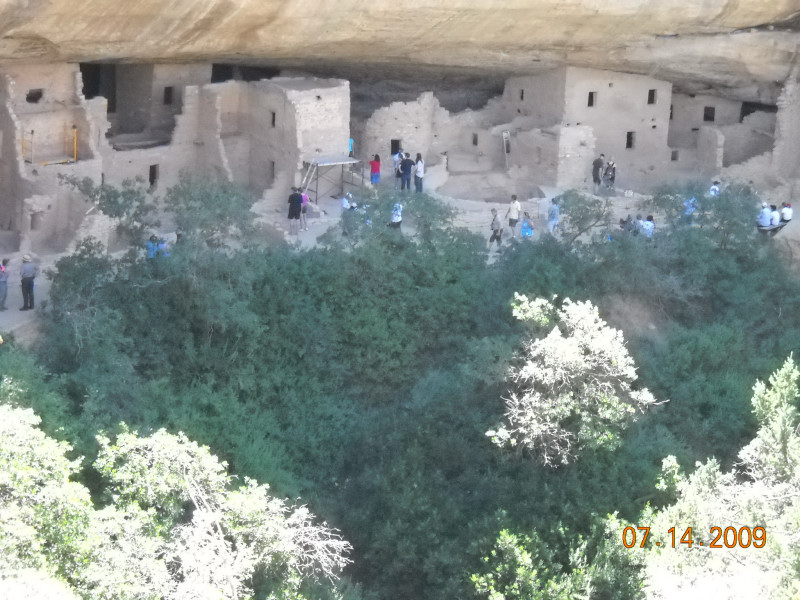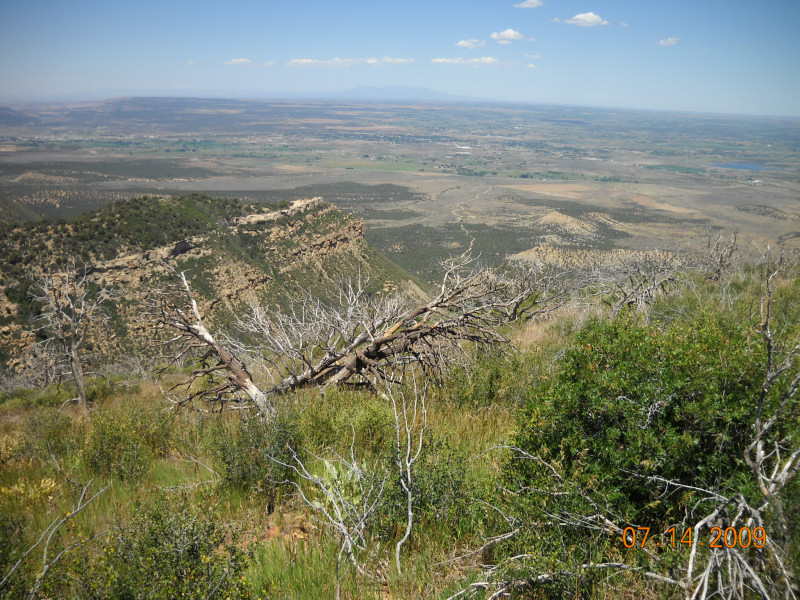 Nice view of Cortez, Colorado from the Mesa Verde area.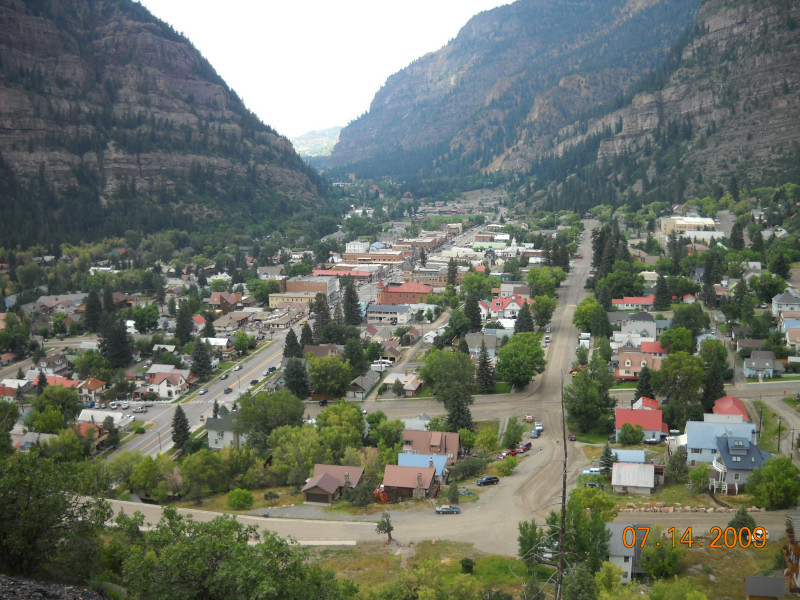 Later that afternoon, Evelyn and I drive (no bike this ride) to Ouray. The hiway here is quite spectacular. Evelyn had taken the Durango to Silverton narrow gauge train ride (everyone said you HAD to do that), but had not been to Ouray over the "Million Dollar Hiway". I had been here the day before. Here we find......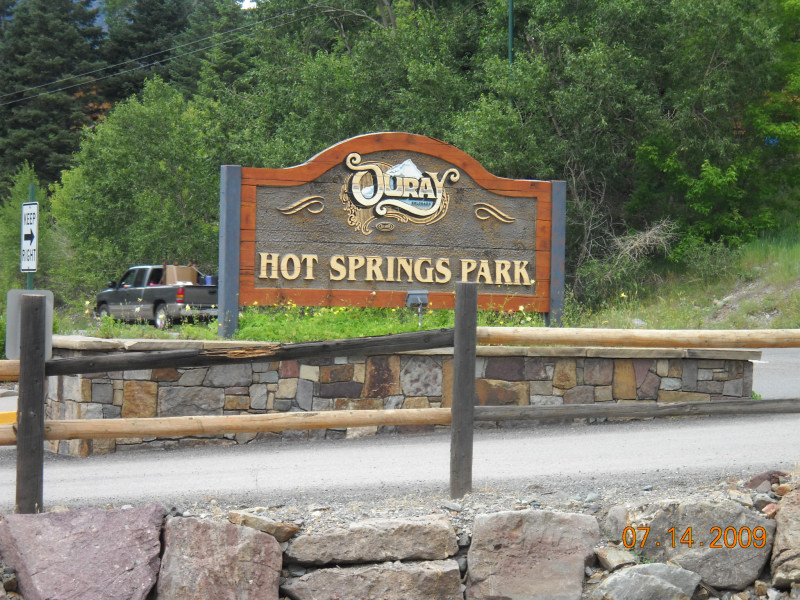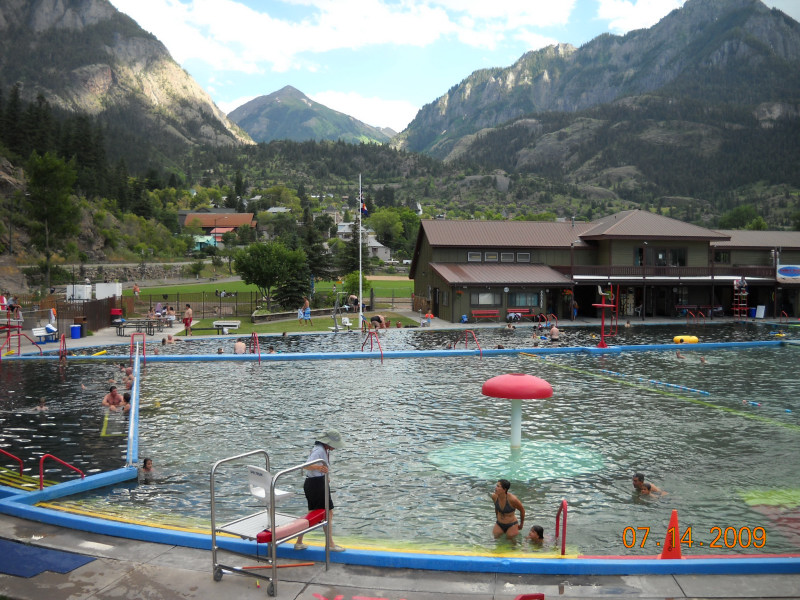 Very quaint town know as "The Switzerland of the Rockies". There must be many trails because there are lots of ATV and jeep rentals here. Wednesday we head back to Red River. We stop at the Aztec Indian ruins in Aztec New Mexico. Photos below. These Indians lived here about the same time as the Indians at Mesa Verde.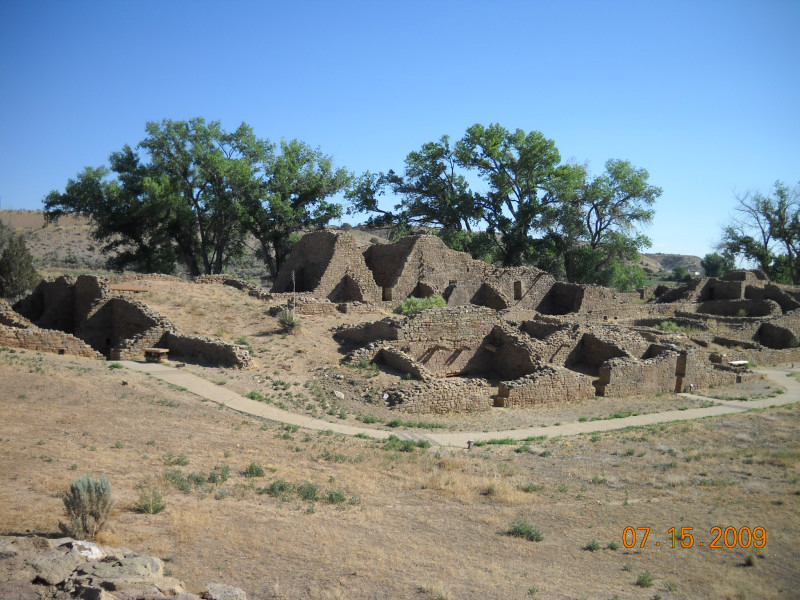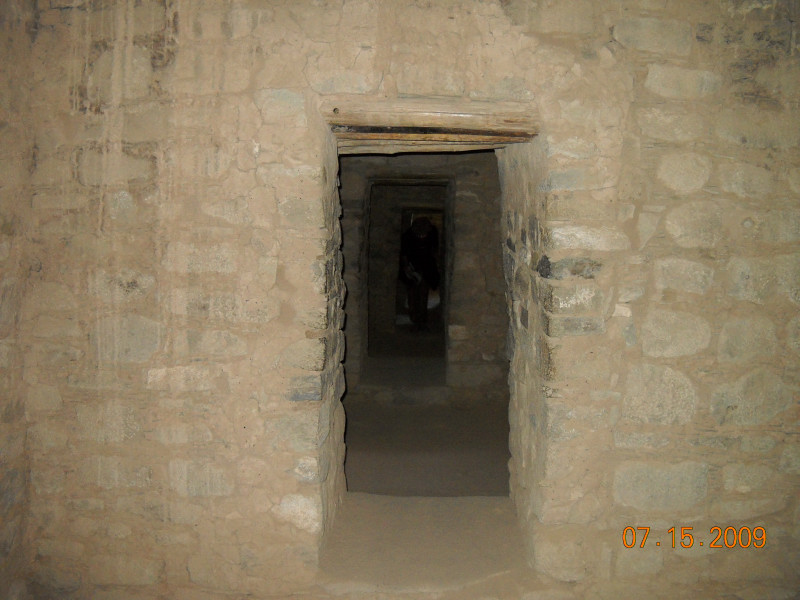 They must have been very short to walk through these storage rooms. They lived a simple life. Average life span: 35 years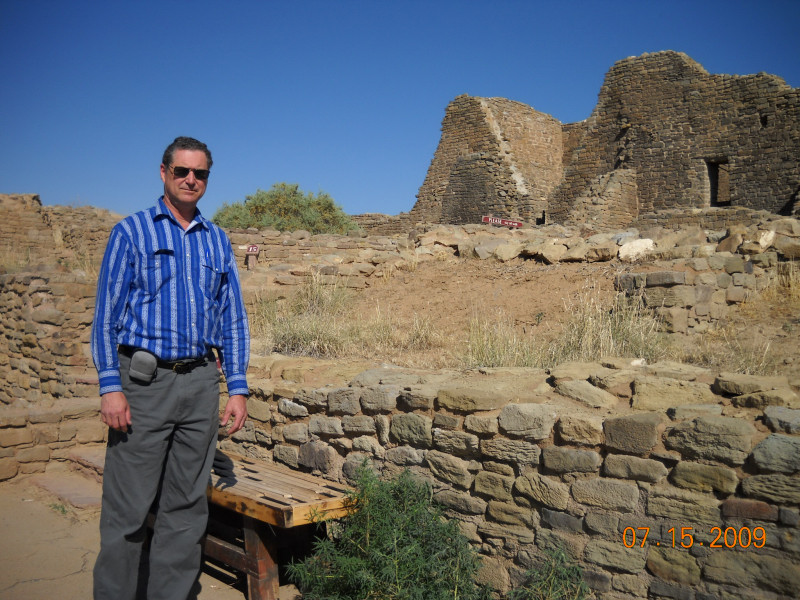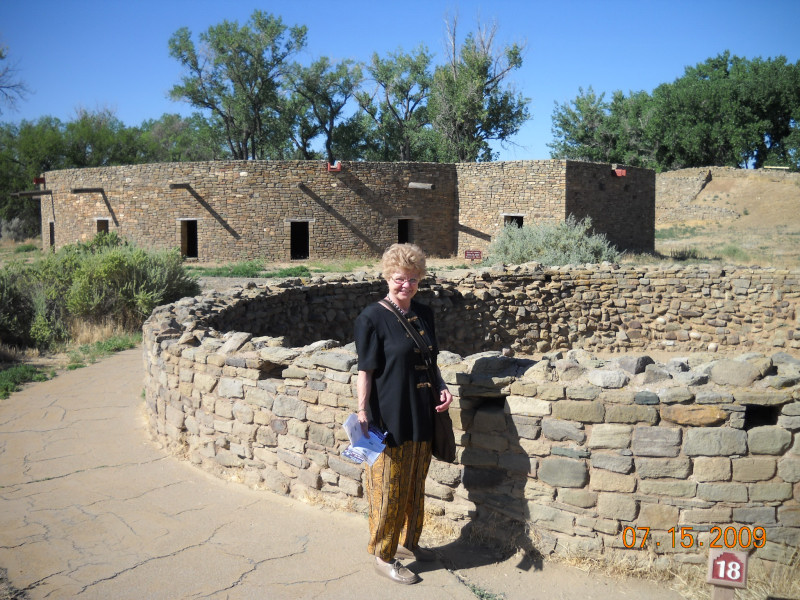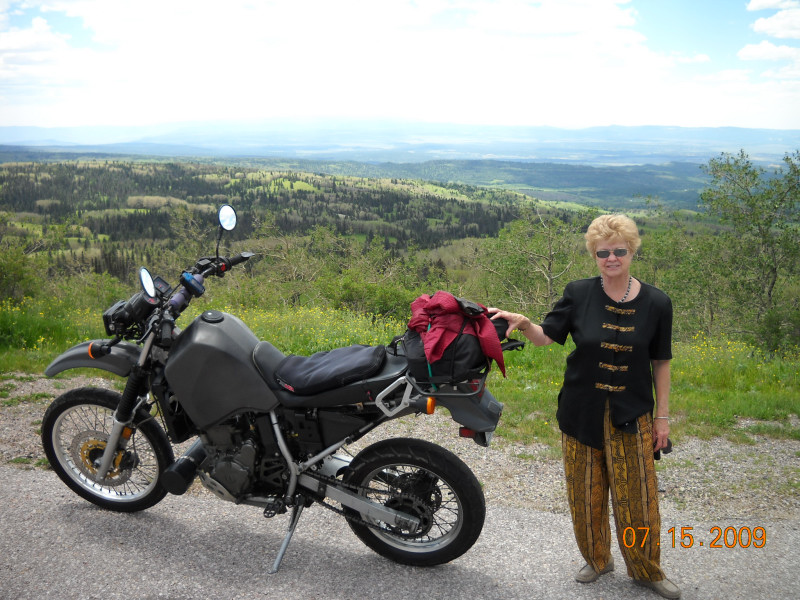 This is at 10,500 feet on the way back to Red River on Hiway 64. Extremely scenic ride from here to close to Taos. And, I had a nice tail wind. ZOOM. A 260 mile ride today. I felt good and could have ridden further. Evelyn was pooped (and she was in the air conditioned car listening to CDs!) She hit the hot tub when we got back to the resort.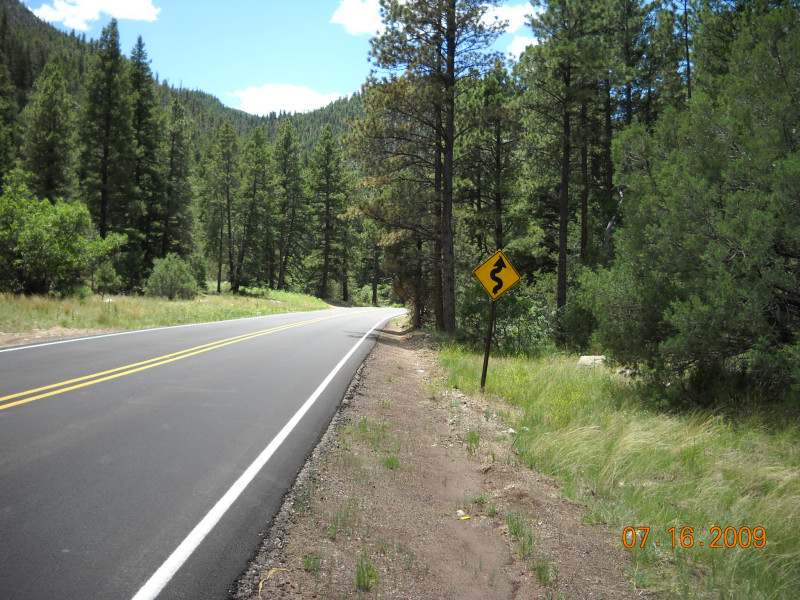 Last day in Red River so I took a leisurely ride to Cimarron and back. Through the forest along a nice river.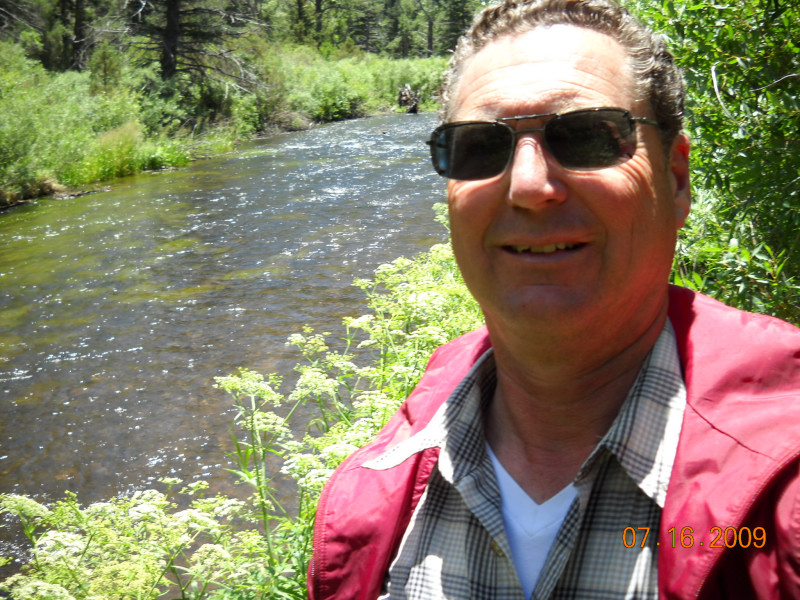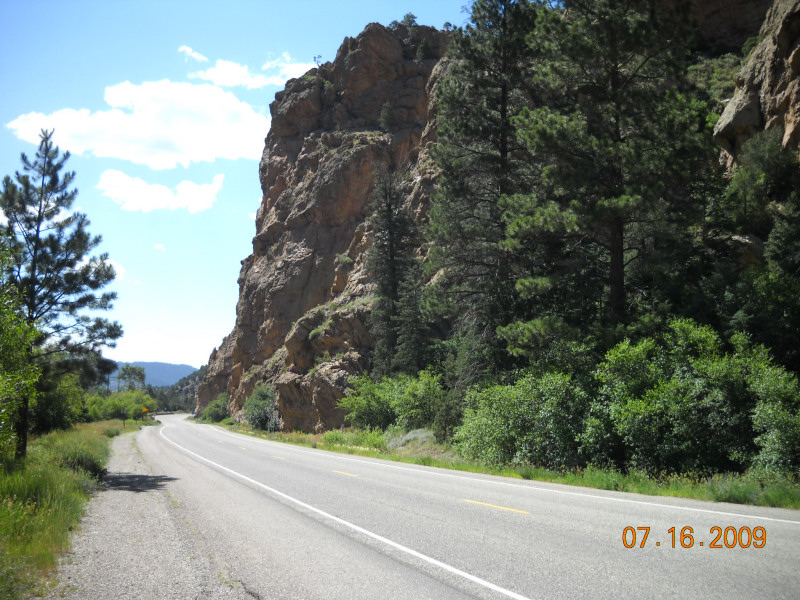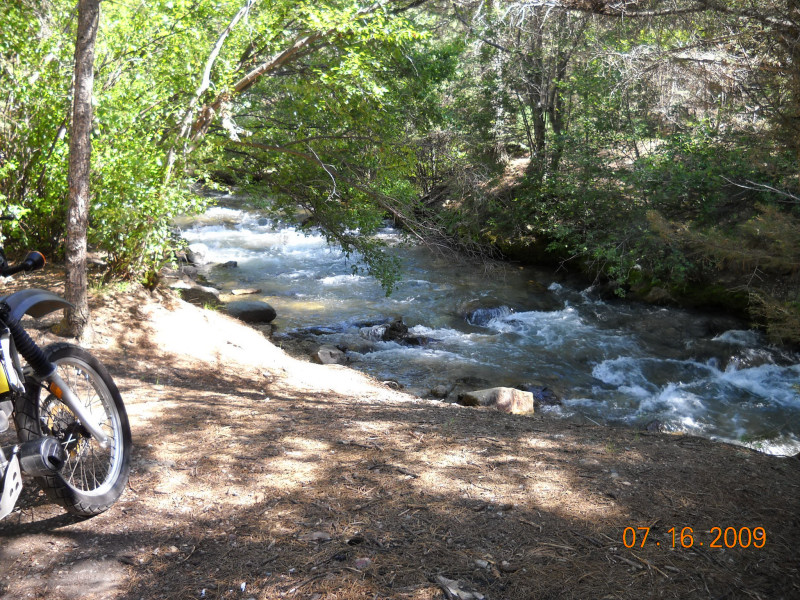 Notes & Anecdotes: Going through Taos on the way to Red River we saw many hundreds, probably thousands of Harley riders. Some kind of Harley Convention. They were everywhere. I would turn off the highway to follow a river and there would be several Harleys hanging out. Anyway, on Sunday they were all out riding and a thunderstorm came in and hailed on them. Ooops. Picture thousands of riders in their cut off jackets, no helmets (just those skull and cross bone head bandanas) with their women on the bike getting pounded. Gotta hurt!

Durango is basically known for 3 things: Narrow gauge railroad to Silverton, Tubing down the river, and Gateway to the "million dollar highway" to Silverton and Ouray.
Evelyn had a problem pronouncing TAOS. She would ask, "Are you going to ride to TACOS today?" "I think I'll go shopping in TACOS today." "Only 15 more miles to TACOS". That's my girl!
The End